Stock Assessment Course in Chile
Stock Synthesis (SS) Course in Chile, March 3-7, 2014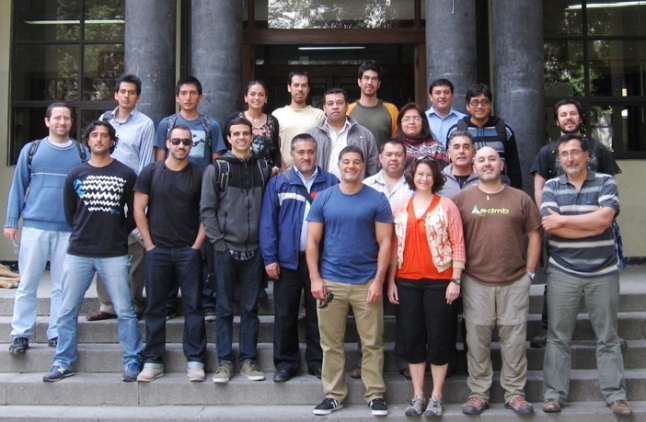 This course was organized by CAPAM Research Scientist Dr. Juan Valero, Dr. Melissa Haltuch (NOAA), Dr. Richard Methot (NOAA) and Dr. Billy Ernst (UDEC, Chile). This is part of CAPAM's Education and Training Program. The course was taught at at the Universidad de Concepcion, Concepcion, Chile during March 3-7, 2014. Funding was provided by the National Marine Fisheries Service International Science Strategy (NMFS ISS).
The course was attended by 20 fishery scientists and students from Brasil, Perú, Colombia, Chile and USA. Course participants received instruction and demonstrations on SS model capabilities as well as worked on implementing SS model configurations using data for fisheries they are responsible for conducting stock assessments or are conducting research on. Course program can be seen here. Participants work resulted in SS model configurations of different complexity for 11 stocks:
Corvina (Plagioscion squamosissimus, Itaipu Reservoir and Upper Parana River stock-Brasil)
Sabalo (Prochilodus lineatus, Cuiba River stock-Brasil)
Merluza de tres aletas (Micromesistius australis, Southem blue whitting-Chile)
Merluza comun (Merluccius gayi gayi, South Pacific hake-Chile)
Merluza comun (Merluccius gayi peruanus, Peruvian hake-Peru)
Merluza de cola (Macruronus magellanicus, Patagonian grenadier-Chile)
Merluza austral (Merluccius australis, Southern hake-Chile)
Anchoveta (Engraulis ringens, Peruvian anchoveta-Peru)
Jurel (Trachurus picturatus, Jack Mackerel-Peru)
Sardina comun (Strangomera bentincki-Chile)
Almeja (Venus antiqua, Clam-Chile)
The course was covered by the local Press here.